Another week, another new batch of Virtual Console games that are not EarthBound. Damn it all to Hell. To be fair though, this week's games aren't too bad, though I'd personally rather have their SNES counterparts if we must have these games. This week, we're getting Yoshi's Cookie and Bases Loaded from the NES. Here's what we all think!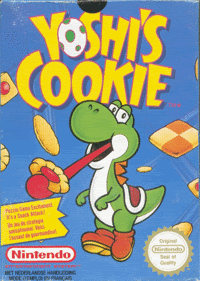 Yoshi's Cookie
Genre: Puzzle
System: Nintendo Entertainment System
Release Date: 1993
Price: 500 Wii Points
Aaron Sirois: Yoshi's Cookie is a hella fun game. Although, to be honest, I always wondered why he was working with desserts. But hey; if Mario can be a doctor, why can't Yoshi be a chef? I'd easily place this in my top five puzzle games for the NES, right up there with games like Dr. Mario, Kirby's Avalanche, and even Tetris. As I've grown older, I find myself liking this genre more and more. Yoshi's Cookie is exactly the kind I'm looking for. Fast paced action that requires quick reflexes and planning ahead is a recipe for success.
Charlie Marsh: This one kind of confused me the first time I played it. It's like reverse Tetris, in that everything falls down, but you can only rotate what is already on the ground. It can be fun at times, but usually I end up finishing each stage in about 3 seconds. Personally, I'm waiting for something like Dr. Mario or Tetris, but this is good, too.
Alex Lucard: Yoshi's Cookie is a must buy for me. My very first job at the ripe age of 16 was telemarketing, and I was so good at the job I was able to sell sell sell all while playing my original thick as a book black and white Game Boy. The game I'd play most often at work was Yoshi's Cookie as I could hit a damn near zen like state while talking on the phone and matching up cookies. For five bucks this is a great little piece of nostalgia for me, and I can have it in colour finally.
Guy Desmarais: Yoshi's Cookie is the better of the two NES Yoshi puzzle games. If you're a puzzle game junkie, this is a game you should definitely play. Not only does it feature your favorite dinosaur (and it's NOT Barney), it feature exquisite treats, all in 8-bit glory. I know I may not have said much about the game, but seriously, anything that's about matching up cookies cannot be bad.
Christopher Bowen: This harkens back to a more innocent time for me, a time when executives the world over gave their game designers one task, seemingly: CAPITALIZE ON THE TETRIS CRAZE, NOW! Hatris, Wario's Woods, Yoshi's Cookie and the SNES's Panel de Pon all capitalized on this frenzy. As for the game itself, it was good for those that like puzzle games; you had to match up cookies in a row to get points, and they could provide chains. I didn't play much of it when it was new, and I doubt I'll drop $5 on it now, but I recommend it for those that like these type of games. Essentially, if you like Puzzle League/Panel de Pon, you could do much worse.

Bases Loaded
Genre: Sports
System: Nintendo Entertainment System
Release Date: 1988
Price: 500 Wii Points
Charlie Marsh: It's bad.
Alex Lucard: Back in the day, this was actually a decent Baseball game. Sure it wasn't as great as the RBI Baseball franchise or as amazing as the ORIGINAL Baseball Stars for the NES (Why do we have BS2 but not BS 1 on the VC???), but it's a decent game. I prefer to stick with Baseball Stars 2 due to the graphics and gameplay, but NES fans will no doubt have fun with this classic title.
Guy Desmarais: Looking back on it, it wasn't that good, and there's no way I would spend money on it again, but back in the days, this was the best baseball game I had ever seen. In fact, it was the only baseball game my friends and I played until the SNES days of Ken Griffey Jr. Because of that, I could recommend it if you are overwhelmed with nostalgia at the idea of playing it once again because it took such a big part of your youth, but if you simply want to play an 8-bit baseball game, you could do much better.
Christopher Bowen: I actually got this almost as soon as it came out, and I would meticulously play this game, and went as far as to use my old Strat-O-Matic scoresheets to score the games. Yes, I would keep scorecards of my Philly team in Bases Loaded. I don't know what's worse: that, or the fact that I remember doing Oko's average one day (.458). This simply was the best baseball game of it's time, and sadly, was arguably the best Bases Loaded game of all time, as the series hit everything from minor bumps (Bases Loaded 2) to craters (everything else) the rest of the way. Oh, and this was the first game that supported bench clearing brawls if you hit the other team's best player; can't forget that.
And that's that. Not a blow away week but decent nonetheless. See you next time!